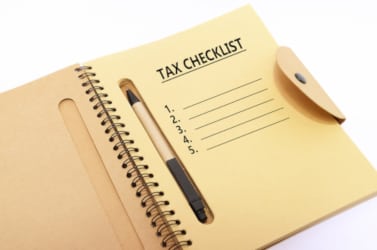 Personal Tax Return Checklist
We all could do with a helping hand when it comes to organising our annual
tax return. The Power2 tax preparation checklist will help you get organised and ensure you have all your paperwork in order, in time for your tax appointment.This will help avoid unnecessary lodgement delays and additional fees and charges. It will also help you to meet your ATO substantiation obligations. Download your PDF "tick box" copy by clicking on the image opposite or carry on reading the information below.
Ready to book your appointment? Contact us now
General information
Payment Summaries (previously called Group Certificates)
Bank account details – BSB & Account Number for refund purposes. See Message One above
Details of interest earned in bank accounts for the financial year
Dividend Statements for any dividends received throughout the financial year
Employee Share Scheme Payment Summaries
Tax Statement for any managed fund investments
Receipts for work related expenses
Receipts for any donations to registered charities
Receipt from a registered tax agent for your last year's tax return preparation if not at Power2
Full details of your partner's income
Private Hospital Insurance Annual Tax Statement. See Message Two above.
Letter or statement detailing your tax deductible income protection insurance premiums
Medical Expenses – out-of-pocket medical expenses relating to disability aids, attendant care or aged care expenses.
Details of any business income and expenses
If you have sold shares we will require the following:
Contract for the sale of the shares
Contract for the purchase of the shares
Purchase price for shares sold that were acquired via dividend re-investment
Details of any share consolidations, demergers, mergers, rights issues that affected the shares
Details of any brokerage costs in acquiring or selling the shares
If you've received rental income throughout the year:
Date first rented
Real Estate Agents Annual Statement
Details of rental income received
Receipts for rates, water, insurance, body corporate, pest control and advertising
Details of interest incurred on loans used for the purchase of the rental property
Receipts for repairs or improvements or appliance purchases
Your last years' tax return if not at Power2 (if this property was rented last year)
All purchase documentation (for newly acquired rental properties)
Depreciation Report if you have one
Receipts for travel associated with property – 2017 is the last year you will be able to make a claim (i.e. airfares, accommodation – please note:excludes fuel costs)
If you have sold an investment property or vacant land:
Purchase contract and settlement statement
Legal fees and stamp duty paid on purchase
Receipts for Building and Pest Reports
Receipts for improvements
History of Rates paid, (vacant land only)
Sale contract and settlement statement
Receipts for Advertising
Receipts for Real Estate Agents commission paid and other selling cost
The list above is not an exhaustive list. As we prepare your return other information may be required that is relevant to your particular circumstances.
Important Note: The tax agent prefill report that may contain some of the information above, like interest and dividends, is often not available due to ATO technical difficulties and may also be incomplete, particularly early in the tax season. Power2 recommends that clients obtain their own records to support the information they declare in their tax returns.
Please read these two important messages too:
Message One: Bank account details must be entered into all Income Tax Returns for refund purposes. Where a refund is expected the ATO will not allow us to lodge the return without your BSB and account number. Please bring these details to your appointment to avoid unnecessary delay to the lodgement of your return.
Message Two: Recent changes to tax law means that if you are covered by a private health insurance policy we must have the "Health Insurance Tax Statement" for that policy to complete your return. If the policy is in your partners name but you are covered by that policy we will still require a copy of the statement. If you were not covered by a private health insurance policy for any part of the income year then this message is not applicable to you.