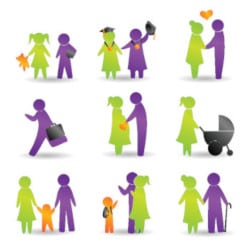 Life Events That Require Financial Planning
Even positive experiences might necessitate some professional help.
Sometimes, even the best events in life – a birth, new job or dream relocation – require a financial plan. They might necessitate the need for more insurance coverage, a new budget or guidance from a financial advisor.
Here are 6 positive events that should inspire you to do some financial planning:
---
1. You retire.
Retirement is considered the pivotal financial moment in a person's life. If you haven't already worked with a financial planner to figure out your plans and budget, then now is the time. In fact, at Power2 we urge even clients in their 20s and 30s to start planning for this major life transition, to make sure they're saving enough along the way, during their peak earning years. It's also a good time to reflect on what you want out of the final third of life.
---
2. The opportunity to buy a Holiday Home / Rental Property.
Beach houses and holiday homes are a great annual escape from everyday life. Then, the landlord offers a sweet insider price you can't refuse. Likewise a rental property can seem like a great idea, tax deductions and an investment you can visit and touch. While they can be a great investment for some, rentals and holiday houses, especially ones that require rental income to finance – can be a complicated long-term commitment. A Power2 financial planner, not a real estate agent, is the adviser to help you objectively consider this decision.
---
3. You got a pay rise.
Pay raises are typically small and incremental if they come at all, so getting a big raise is cause for celebration. They also mean it's time to do some planning to determine how much you should be saving for the future. It might be time to consider bumping up your retirement savings through strategies such as Salary Sacrifice.
---
4. You just got an inheritance.
Baby boomers stand to inherit significant wealth in the coming years, and receiving lump sums also carries with it financial responsibility. It can raise questions about spending habits, charitable contributions, tax payments and a slew of other concerns. You might want to get help from a Power2 Financial professional as you figure out how to handle the money.
---
5. Wedding bells are ringing.
Marriage is often the start of a long journey with many major shared life events like children, travel, loans, business and eventually retirement. A good financial planner will take that journey with you, scouting ahead to be sure you take advantage of every opportunity and avoid life's traps.
---
6. You're expecting a new arrival in the family.
When the baby arrives, life inevitably gets more complicated. It could be worth it to fit in some financial planning alongside baby naming or stroller shopping. You might want to start planning around future debts such as housing, cars and schooling as well as take out additional life insurance policies.