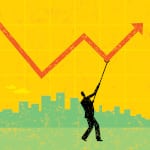 Are the Tough Times Behind us?
14/07/2015
 by John Carroll
Well, as we all know, it has been a rocky year for Mackay and I have to say I don't think Power2 has a single business client who hasn't been affected in some way.Some businesses did not, or could not, adjust quickly enough to the downturn and unfortunately are no longer with us. The downturn has not just affected local businesses, it has also impacted employees and led on to a drop in the value of housing and commercial property as well as rents falling across the city.
That's the bad news and also the year that was.
At Power2 we are now starting to see green shoots appearing in the town. Our clients are cautiously optimistic and many are back chasing new contracts and hiring new staff. The cuts and changes made to businesses have strengthened them and most owners, when asked, tell us they have come out of the year bruised but smarter and stronger.
As Business gets back on its feet and regains confidence we will see the flow on effect that comes from them hiring staff, and the economy in Mackay will recover. The boom may be over for now but Mackay is a vibrant, exciting place to do business and it will rebound and prosper.
Personally, at Power2 we have always made it our goal to surround our clients with all the professional services they need under one roof. Our Financial Planning arm and Individual Taxation Services are each as large as our Accounting arm. We also have specialists who provide Legal Services such as Wills, Powers of Attorney and Conveyancing. We have experts on Lending, Leasing, Superannuation, Insurance and Centrelink all under one roof.
We believe that while this philosophy is great for our clients it is also what enabled Power2 to endure and grow in the tough times as opposed to just pushing through and surviving.
Regards
John Carroll
Power2 Managing Partner
John Carroll is Managing Partner of Power 2 – read more about him here